Project coordinator
Michał Wszoła MD, PhD
#FIGHTWITHCORONAVIRUS
Currently we are realizing few projects dedicated to the most important issues connected with coronavirus.
Facing pandemic, we decided to use our knowledge and experience to combat coronavirus. In line with our mission that lasts already for 11 years, we feel obliged to undertake active steps to protect health and life. We would like to contribute in practice to improvement of the current situation. We have mobilized the whole foundation's team and fellow companies and foundations. We will do our best to use our potential in the most beneficial way along with the principle that we shall combat the current pandemic only if we are secured and armoured with reliable knowledge. These are the values that are promoted by us since the establishment of the Foundation.
Remember that by supporting each other we can effectively help health care sector, patients, the elderly, teenagers and children. Together we can do more. #fightwithcoronavirus
We have joined a bottom-up initiative of academic and scientific environment of Warsaw University  #startujemyzpomaganiem that aims at joining strengths in fight against coronavirus. Entrepreneurs and start-ups which preliminary activity was slowed down or feezed and their resources became untapped, engaged in alternative activities and became active for the sake of spreading common good and support of the most needful ones. The project focuses on creation and delivery of indispensable supplies for doctors. The funds collected in the framework of the initiative will be devoted to materials needed to produce among others face masks, cover shields and the purchase of personal protection equipment.
Automatic resuscitator AuRes
PRINTING OF HUMAN TISSUES OF BRONCHIAL TREE
Currently there is no effective medicine for coronavirus infection that is why research in this area is being undertaken by many scientific centres. The whole world is racing against time. Apart from missing medicine for SARS-CoV-2 there is also no safe research model to test medicines.
Together with Polbionica and Medical Centre MediSpace, we decided to print human tissues of bronchial tree which can serve to check potential therapy against coronavirus in a fast, easy and what's most important – safe way. We shall inform about the initial results of our activities shortly.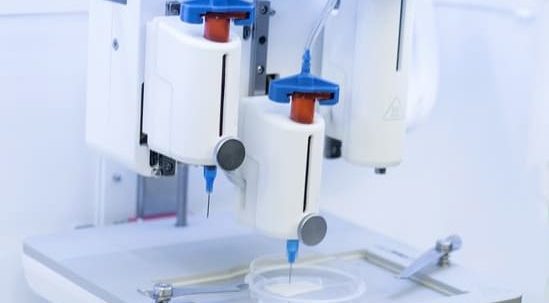 PRINTING OF 3D FILTERS FOR MASKS FOR PARAMEDICS
Based on presented research of international team of scientists connected with Stanford University, engineering team of the Foundation designed special case for HEPA filter used in household appliances. This element enables attachment of the filter to snorkeling mask. The casing was designed in such a way that a person wearing it could take a shower without making it wet. The prototype printed in 3D technology was not yet tested in terms of effectiveness of filtering viruses. This solution is assumed to be used in case of lack of filters for medical purposes. In such situation, snorkeling mask with HEPA filter would secure medical personnel and ensure proper filtering of aspirated air.